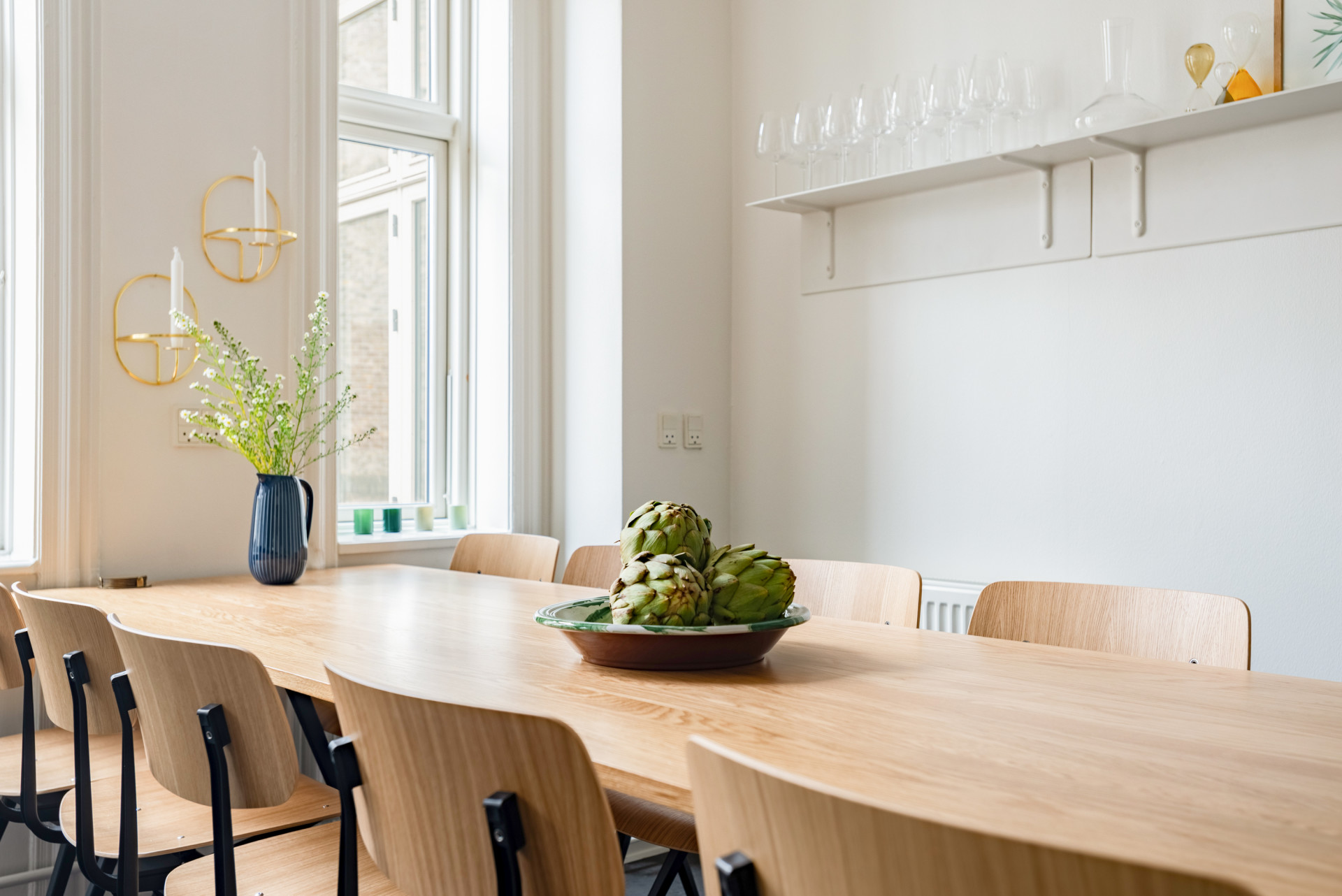 Mikkel Krøijer is the Head of Design at LifeX, the visionary behind our beautiful apartments. If anyone in our company is qualified to talk about design and how the space around you affects your work from home experience - it's him!
What advice can I, as a designer, give on how to get the most out of remote working? I believe most designers are extremely aware of the physical environment they are in, and very sensitive to how the environment affects their work both negatively and positively.
I have worked in all kinds of creative environments for more than 20 years, in the first ten years I was working from some of the most creative agencies both in US, Europe and Asia, and was spoiled with working in inspiring offices, ranging from repurposed factories, to shiny skyscrapers with amazing views, but I still could not adjust the air conditioner, or turn down the background chatter.
In the last ten years I worked in very typical start-up environments which are fun and cosy, but often feel very temporary in their style and are often chaotic places to be in.

What I like about working from home is that I have full control over my working environment, I can adjust not only how it looks, but also the temperature, light, style of music etc. all this helps me focus and be highly productive. There are some small hacks and working from home tips I can recommend:
Don't get too comfortable
It is known that changing the working environment can instantly disrupt your thinking, and inspire new ideas. As a creative, I've always benefited from this, and expected to resolve whatever problem I got stuck with simply by moving to a new location. Use the kitchen, living room, bed, garden, shower, terrace, or whatever space you have.



Declutter your space
This may not surprise you, but It takes significantly more effort to focus in a cluttered space, every item in the room wants your attention and steals your focus. Make it part of your morning ritual to tidy your room up visually. It works for me to just pile things, and hide them from view. It gives a lasting boost of energy to be in an organised place.


Desk and distractions
I rarely need anything else to work other than my mac, and occasionally my notebook. Therefore I prefer not to have anything around me that can distract me, other than the outside view from my desk. The view is a healthy distraction, offering both positivity and energy, and letting the mind relax and wander. That is why, in our LifeX homes, we always try to put our members' desks by their window.



Ergonomics of movement
I'm afraid I have not heard of any 'perfect' chair or table that prevents back and neck pain. To protect yourself from the dangers of a static 8 hour work day, the best thing you can do is to change seating position frequently, and as described previously, move around so you don't get too comfy in one spot. If you're like me, and don't have a monitor and keyboard at home, then you may also experience headaches and neck pain. I thought the only solution would be an expensive home office setup, but I ended up resolving it by putting a 300 page book under my laptop, which adjusted my neck position just enough so I did not have to look down on the screen. No more headaches.


Zoom and hangout prepping
When having meetings at home, it's great not to be bothered with booking meeting rooms for my calls, and not having the distractions and interruptions from the office. A good remote meeting for me is when you can hear and see each other perfectly with no distractions. I always make sure there is a source of light in front of me, and never having a window behind me. I don't mind showing my home in my calls, I think it creates a more personal vibe, but I'm aware my environment around me, like my stuffed deer on the wall may be distracting.



Digital tools
There are a lot of great apps out there to help with organization and collaboration. Of course, a tools utility is highly dependent on your line of work. One tool that I find really useful and helpful to people in a wide variety of work isMiro. Miro is a really awesome collaboration tool, great for wire-framing, diagrams, and process creation. There are a lot of nice looking templates for nearly everything.


Mood boosters and ambiance
There are a lot of small tricks to 'cozy up' a space that can boost energy and mood too. Things like plants, music, candles, some slippers, and a cup of tea can do wonders to make us feel good. I believe when we feel good that it's reflected in the work we do. My work playlist is full of atmospheric instrumental music like Jon Hopkins, Boards of Canada, Moderat, Vangelis, and Nils Fram. If I'm feeling stressed, and just need to focus, then I pick the Vangelis Bladerunner soundtrack. I prefer Instrumental music so that it doesn't distract me when I'm working with words.


Leave your apartment


People that are working from home often complain that their professional and private life blends together. For me it has been very effective that I leave my apartment every morning to drop off my kids, as it helps create a barrier between my private life and my work life. When I worked remotely before, I could have days where I did not leave my apartment, and this was not good for me. So I recommend that you find a good reason to leave your apartment every morning.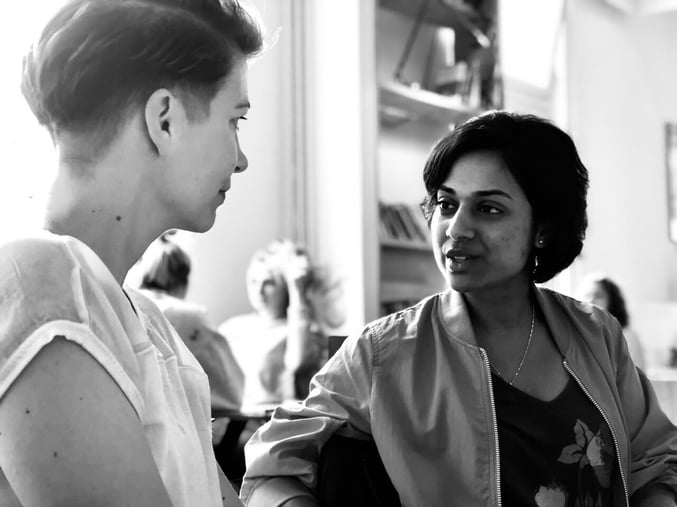 Kashee Ramalingum, is the Head of DACH Region Real Estate at LifeX, it's safe to say we would be lost without her! She is a powerhouse, among many things, and works in many cross-functional teams. If you have questions about communication, she has wise advice. This is an excerpt, about communication skills and tips, from her article on working remotely; you can read the full article here.
Nine months and counting! We read about it in the news, on social media, we talk about it, some of us are tired of it, and some of us have had to reorganise our everyday life around it. But is it here to stay?
Reality is, 'it', remote working has been around for a while, whilst some of us have already embraced it and see no difference in our day to day life, others are having to adjust to what is now being called the 'new normal'.
I find myself in the former category.
So it would be fair to say that over the last months, I've probably only experienced a small percentage of adjustments to my day-to-day activities. Don't get me wrong, I have not always been a remote worker. Prior to the last two years, I was like most people, based in an office space surrounded by colleagues. I enjoyed the corridor chats, the coffee machines anecdotes, the spontaneous jokes, the office banter or the Friday drinks. But I did leave all of this behind, so how did I get here? Was it an easy switch from a full day office job? I guess for me, the answer is quite simple: I love working remotely. Sure, I miss some of the office perks, but I have easily adjusted to being remote. Nonetheless, I do realise that working remotely is not for everyone and in the current climate we unfortunately find ourselves in, some of us have had no choice but to adapt to it. Hence, I decided to share some of my experiences in the hope that I will be able to help some of you out there. My experiences may not be the right and perfect answers, but they have worked for me and maybe they will for you too.
I strongly believe that there are some factors that MUST be present in order for remote working to be successful: trust, clear and open communication, and organization.
[See her article to read about trust and organization]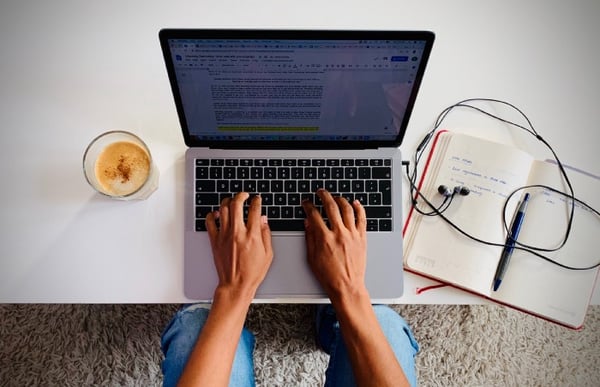 Clear & Open Communication

Unfortunately, remote working does not include those traditional corridor chats, coffee machine conversations or the spontaneous standup that allow coworkers to quickly sync up. At best these encounters are virtual. Yes, these are the downsides of working remotely, but can these be circumvented? There is no point in hiding it, the office banter with colleagues is something I do miss. However even if it cannot be created, there are still ways to accommodate, such as setting up a short call with your colleagues just to catch up without any work talk.
Communication in a remote working environment needs to be clear and barrier-free. You should consider how frequently you need to communicate with colleagues and most importantly what platform to use.

Below are some things that worked for me:
Schedule syncs
Plan weekly syncs with your colleagues in order to keep each other up to date on what you are working on. If you need to cancel the sync, do remember to reschedule one so you keep the momentum going. I find it is always nice to send a note before cancelling a sync, it shows a level of respect and provides more transparency.


Prioritise
You need to be able to identify what requires immediate attention versus what can wait. Is a phone call necessary or can you send a message for your colleague to get back to you in due time?


Use the best tool for your message
Slack is a great tool, I use it a lot, but Slack at the end of the day remains a chat/messaging platform. Slack messages get lost once read, some of us check Slack on the run and forget to reply. In some instances, you should consider whether Slack is the best medium to use or whether an email works best. If you don't get a response, just send a friendly reminder. Very often it just means your colleague forgot to reply, so do not assume you are being ignored.



Share your calendar
While working remotely, I find calendar sharing very important. When you're working remotely, you don't have an overview on whether your colleague is at their desk or in a meeting. Therefore if they do not answer their phone or Slack message, do check their calendar, there might be a very simple reason for them not answering. Again, do not assume they do not want to talk to you or are ignoring you.


Follow up clearly
If you have not been able to reach them, send a message explaining why you need their help and whether they should be calling you back. This will help them prioritise their work on their side. If you do not follow up on providing them with additional input, they might not know how urgent it is or might just forget to call you back.


Be mindful
If you are on the run or in a meeting and cannot respond properly to a message, it would be best to wait until you are free to respond properly. Avoid brisk and snappy messages, these might lead to misinterpretations and you might not realise you could potentially be perceived as rude.


Be clear & set expectations
If you need input or information from a colleague, ask them nicely by providing details and the reasons why you need it. It helps to put some context around what you need. Your colleagues will then be better able to tailor the information to what you need. It also helps to build a team working approach.


Update others
If you've been working on a project, update your colleagues on its status even without being prompted. This helps to create more transparency in what you are doing but also invites colleagues to collaborate and help out if needed.


Talk it out!
If you are unhappy with a situation, set up a call with your colleague and talk it out. Working remotely means your colleagues do not see you physically and might not realise there is a problem. You therefore need to be able to give feedback and receive feedback. Do not voice out your disappointment or give feedback per email or Slack. Everyone tends to read between the lines and read messages with tones which could make a simple matter worse.



Working remotely is growing in popularity and the belief is that it is here to stay. Even if being remote comes with its challenges, it also comes with great flexibility and simplicity. Thus with the right level of trust, clear communication, organisation in place from your company, you will have been given all the factors to thrive remotely. As a result, you may find yourself being more productive and even happier!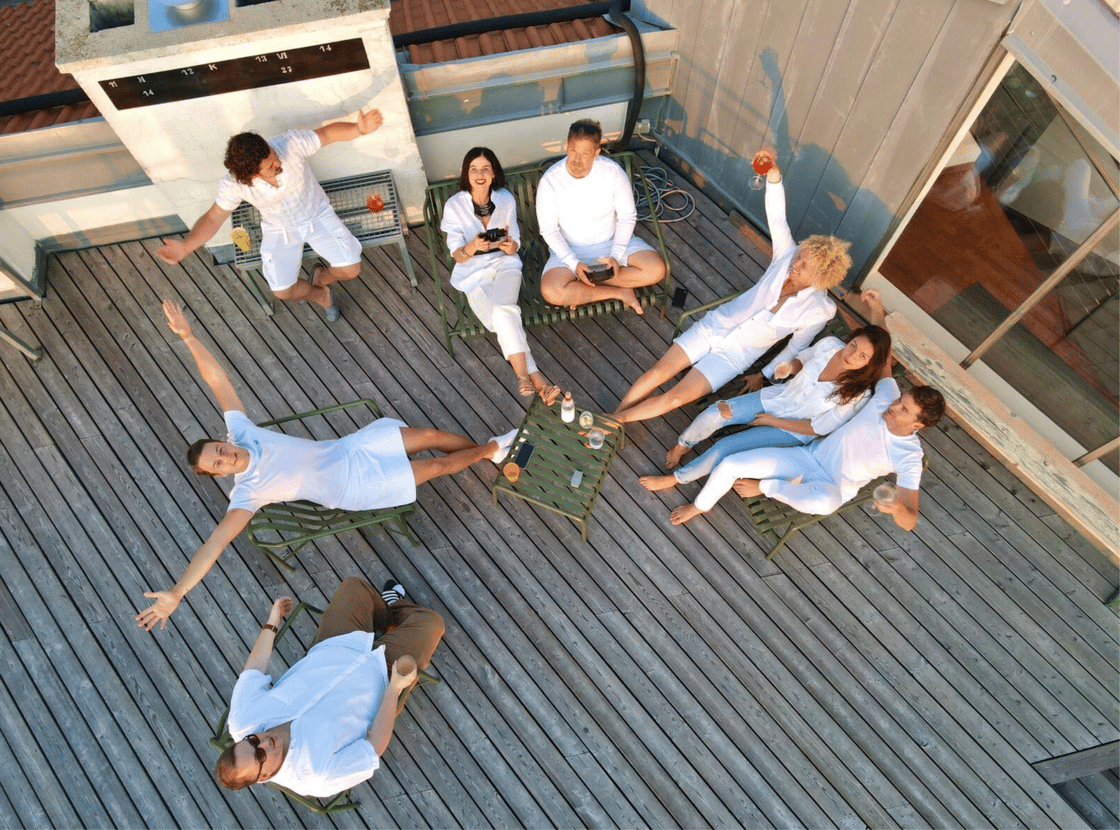 We've written a lot about how to optimise your work from home experience, but one of the most important parts of being productive during your work hours is relaxing during your free time! Without access to all our normal social activities, many of us are running low on fun home activities (Netflix and banana bread can only get you so far!)
Luckily our Community Manager, Sascha Ratchinsky, is always full of suggestions! Whether you need help organising a project or a party she is your go to woman. Getting things done and having a great time come naturally to her so it only made sense for her to advise us on fun activities to do at home.
As a Community Manager, and social person in general, the restrictions/lockdowns forced me to think outside the box. I'll admit that I found it challenging in the beginning, professionally and personally, but of course we have all adapted and I've been learning a lot. I've found lots of new ways to have fun, relax, and enjoy my free time despite being home WAY more than I'm used to.

With a sudden adjustment to working from home, two of the biggest challenges are separating work and personal time, and maintaining social connections. I'm hoping that my tips will bring some joy into your day, helping you make the most out of your free time and feel more connected to your loved ones! If you're lucky enough to live with others, whether it's co-living or a flatshare, then get ready to be the activity master. Live alone? No worries, this list of activities is curated to fit both virtual and in-person hang outs. Whether you're trying to connect with loved ones abroad or in your house, this is for you.

We have all spent a great deal of time at home this year so I'm trying to focus this list on things you might not have done yet! Also worth noting, each country has different restrictions and risk levels, while these activities are designed to be in-line with stay at home restrictions, it's important to keep an eye on the rules. If you live with others, make sure they are on board with any activities involving others before you dive in 🙂

Group Activities: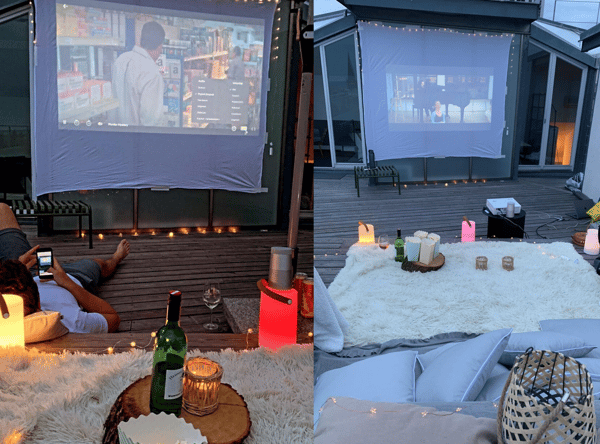 Clothing swap
Go through your closet and purge those things that you're not using! Help each other out and trade items arranging an in-house clothing swap. You have the time now, decluttering feels so good and you're contributing towards sustainable fashion! If you have some valuable clothing items, resell them using facebook marketplace (or equivalent sites) or donate them.


Virtual variation: Similar idea, but video call friends and do it together, this way you have consultants to stop you hanging on to too many never-worn-but-maybe-someday items.




Make a Pub Quiz
Become a quiz master for the night and arrange a fun night of trivia for your friends (online or in person). Mix up classic trivia categories and personalise it with things your friends like, such as: TV shows, Music, and other insider topics. We found a great guide here with some fun quiz ideas.


Online games
Not a 'gamer'? Don't worry, there are tons of options for those with no traditional gaming experience. Everything from online Pictionary and card games to more involved games like Among Us. My friend group and I have been playing Among Us tons and are loving it! There are plenty of free games, and if you feel like splurging you can get some pretty premium online experiences! Bonus: there are lots of passive game options for friends in different time zones, so you can play back-and-forth without coordinating a time


Indoor picnic
Push the furniture out of the way, lay out a blanket, and have an indoor picnic! Supply some drinks and snacks and make an afternoon or evening out of it. No need to worry about the weather or time of day 😉 Indoor picnics are simple and fun. As we head into the winter be sure to cozy it up with candles and lights.
Virtual variation: Similar idea but coordinate with a friend and do it together on a video call. If you live in the same city, and are feel up for it, you could drop off some snacks at their door in advance!



Solo-Social Activities:
Send actual mail
There are few small things that boost someone's day quite like receiving mail. You will brighten a loved ones day and it's actually fun to do. If you don't feel like writing a postcard or a letter, just send a local treat or small gift. Extra nice to do for someone in your life who might be feeling extra isolated. And hey, you might get something back too!


Organise & print your photos
Nostalgia trips can never get cancelled! Start organising your photos, I know this can seem overwhelming, but if you set a small goal and approach it systematically (one holiday or year at a time) it can be a really enjoyable experience. This will minimise digital clutter and hopefully provide you with hours of entertainment. While you're at it, there are tons of services you can use to print photos or make photo books which are so nice to have around!


Spa night


Because you can never have enough self-care! Pick up (or order) some face masks, hair masks, whatever you're into. Do a treatment and indulge in your favourite series, or call to catch up with your best friend. Set the right ambiance and make sure to put work away (don't combine emails and spa time😉) Enjoy and be in the moment.




Mindfulness meditation
Well this might not seem social, it is about getting in touch with someone important - yourself! There are tons of guided meditations, for walking, sleeping, stress, and more. It's not one size fits all, if traditional meditation doesn't appeal to you there are plenty of other meditation styles to try out. Taking a moment to be calm and reflect will help you feel more connected to yourself and therefore those around you.
I hope that these ideas inspire you and lead to some fun evenings at home! It's easy to feel overwhelmed and lonely in these times so above everything, take care of yourself! Don't underestimate how much the small simple things can help, like calling a friend or saying hello to a neighbour. If you live in a LifeX apartment keep your eyes open for Community events - I'll be sending more out soon! ❤️
---

If you're interested in hearing more about co-living with LifeX, and our apartment availabilities, simply provide your details below and our team will be in touch with you as soon as possible!